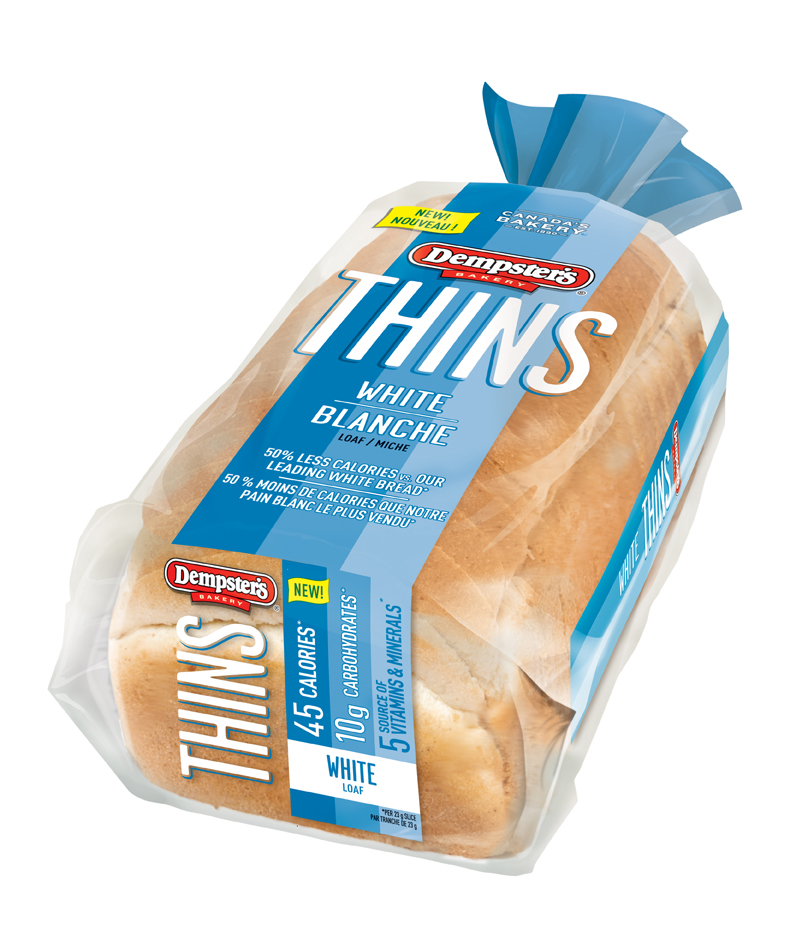 I started a diet. A real diet. My VERY FIRST real diet and I'm on day 7. The great thing about this diet (You can learn all about it here!) is that I am eating a ton of food at regular intervals five times a day.
Thanks to this new-to-me diet, I'm learning rules to healthy eating (okay okay I K-N-O-W these rules but I'm actually starting to practice them). Many of these rules involve snacks. I am supposed to have 2 snacks a day and they must be approximately 150 calories, have at least 5 grams of fiber and under 5 grams of sugar. The thing that has been difficult for me with finding things to snack on is that I love bread. Especially toasted bread with something creamy spread on top like peanut butter or cream cheese or tapanade or something else that's yummy.
Then I found the new line of Dempster's THINS. Both the whole wheat and the white loaves have 2 grams of fiber, 2 grams of protein and only 45 calories per slice. The whole wheat bread has 0 grams of sugar and the white bread only 1 gram of sugar per slice.
Clearly 2 slices of toast and a reasonable amount of topping are well within my snack allowance and I cannot tell you how happy that makes me.
I am dieting for so many reasons but mainly to re-set my eating habits and what my body expects from me when it comes to food (ie: cravings). But I am smart enough to know that I will never stick to anything that remotely denies me of BREAD!
Thanks to Dempster's THINS that certainly won't be the case.
If you're interested in learning more about Dempster's THINS be sure to visit them on
Facebook
because they're sharing a Save $1 Websaver Coupon over there!
As an added bonus, I am going to send a coupon to try Dempster's THINS for FREE to the next 8 people (living in CANADA) that tell me their favourite thing to put on bread.
Can't wait to see your answers and looking forward to seeing you at #WinWithTHINS tonight!